Proudly building on a tradition of craftsmanship
At IMPWEARhome, we are proud to be part of the community of makers in Seattle. We are inspired to make functional things that are beautiful, unique and kind to people and our planet. We love transforming materials into useful products that become part of people's lives.
We enthusiastically embrace "slow design." We believe that less is more and offer you quality that lasts. Inspired by nature, we use the best and safest materials because we value you and our shared environment. Our products are designed to last and when it is time to retire them, they are biodegradable. 
We live life to the fullest. We cram every minute with fun, play, work. We make fail-proof products that hold up to your projects, your adventures, and your dinner parties. We don't believe a little spilled milk (or wine) should stop the joy.
Our products to enhance your life & you'll do less laundry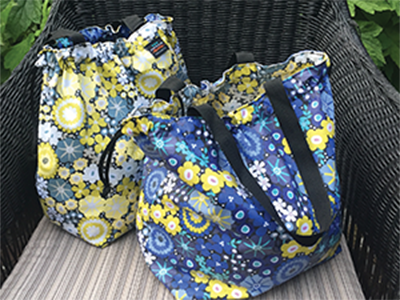 We balance style & function to create useful products that look great.
Our fabrics, bags and home goods are useful and durable to support your busy lifestyle. But useful doesn't have to be dull. Our laminated cotton is luscious, drapey and buttery-soft to the touch. No stiff oilcloth tablecloths here. Designing our own fabrics is a passion. Our ever expanding collection of fabrics is boldly colorful and inspired by the zestiness of life.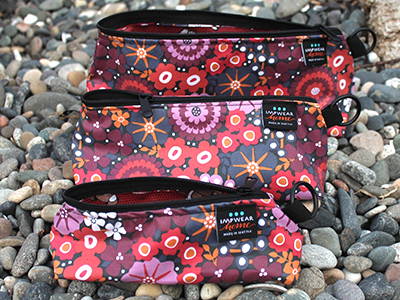 Our fabrics & handmade products withstand the wear and tear of daily use.
Each IMPWEARhome piece is hand-made in Seattle by home sewers and family owned businesses who take tremendous pride in everything they create. Our 100% cotton fabric is coated with a matte-finish polyurethane which makes it water, stain and heat-resistant – you can even put a pot hot from the stove onto our tablecloths. Simply wipe your bag, tablecloth, apron or bib down or throw it in the washing machine to restore it to its original pristine condition.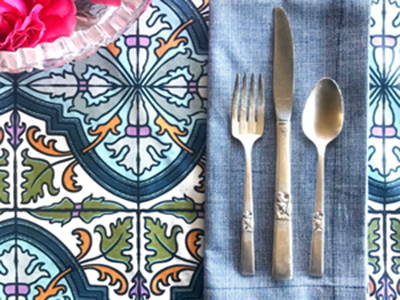 ECO-FRIENDLY & PEOPLE SAFE
We're committed to creating products that protect people and our environment.
We know you care about the impact of what you buy on people and the planet. That's why our 100% cotton fabric is coated with a non-toxic, water-based polyurethane that is CPSIA-certified BPA and Phthalate-free. Our fabric also meets the human-ecological requirements of the Standard 100 by OKEO TEX. Our fabric and our products are biodegradable and our packaging is made from recycled materials. We also strive to be a zero-waste company.
Empowering inner city youth through art

10% of our profits support Coyote Central.

Coyote Central's vision is for Seattle-area adolescents of every background to become creative thinkers and problem-solvers, confident in their capabilities and voice and engaged with their community. IMPWEAR's owner, Tracy, volunteered for years building programs and teaching art in Seattle Public Schools. Coyote is continuing that work, while Tracy builds her own dream.
Because it takes a village
Tracy Krauter
Owner & Designer
David Krauter
Manufacturing & Sales
Loie Warren
Office Queen & Marketing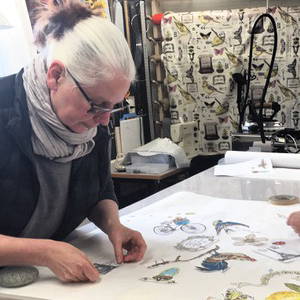 Christine Joly de Lotbiniere
Fabric designer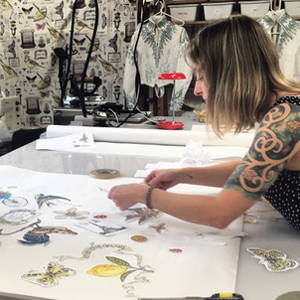 Molly Leonard
Graphic designer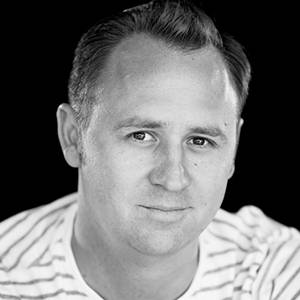 Ryan Krauter
Photographer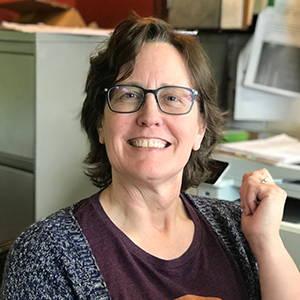 We work with a few home sewers & family owned businesses in Seattle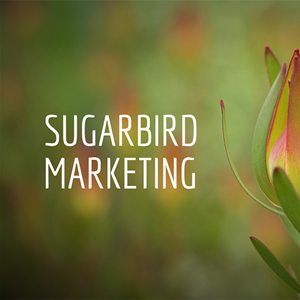 Come and meet us at one of our events this summer
Our customers
Buyers from Logan Ace Hardware trying on our baby bibs in our tradeshow booth.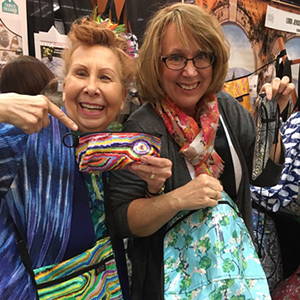 Our customers get so excited about our products!
You are the best because you keep the inspirations coming. Thank you thank  you thank you!